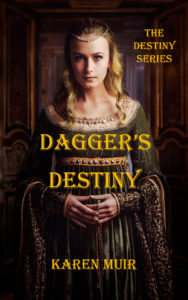 Hi Everyone,
I've just finished self-publishing my first novel, Dagger's Destiny. It is available through Amazon in both Kindle e-book and Print-on-Demand formats. It's the first story in The Destiny Series.
Dagger's Destiny is a sweet, suspenseful Medieval Romance that takes place in 14th century England.
After Katherine's father and brother are murdered, and her family castle is taken over by a ruthless lord, the young lady finds herself all alone in the world, running for her life with only the protection of her jeweled dagger.
Katherine is rescued by a childhood friend, Richard, who vows to protect her and escort her to the safety to his father's estate. As our heroine plots her revenge, our hero finds himself inadvertently enmeshed in a direction, not of his choosing. Their journey together is fraught with danger, mystery, suspense, misunderstanding and, of course, romance.
I sincerely hope you enjoy reading this story as much as I enjoyed writing it!
Other Works:
Dagger's Destiny is part of a Medieval series where some of your beloved characters will have reoccurring roles. We will find out how William and Elizabeth became a couple. There will also be stories revolving around Richard's three brothers: Garrett, Tristan and Bryce. I will be working on these stories in the near future.
But, if you prefer Westerns:
I'm currently writing a Western series about four brothers, the McKay's, who live on a ranch in Montana, in the 1880s.
Karen